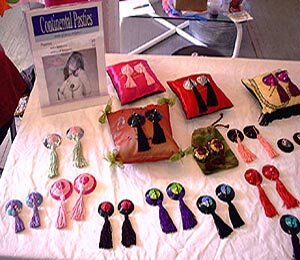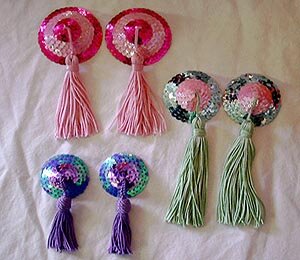 Scandelles t-shirts can be purchased at all our shows, and feature a silkscreen of an authentic turn of the century burlesque show poster, modified only slightly to reflect our own. They come in a variety of styles and sizes, and are made of thick and stretchy cotton, with a sturdy, dryer safe image. We also sell ones made specifically for Neon Nightz by the Toronto company Hardboiled Inc, featuring a one of a kind design of a hot topless eighties fox in a Tron-like cube.
Sasha sells her pasties at the shows, and they are also available in Toronto at Northbound Leather (586 Yonge St) and in Montreal at Venez Tels Quels (5427 boul. St Laurent). Sasha called her company the Continental Pasty, after her belated grandfather's bakery in Oakville, the Continental Pastry. She uses only the best materials, and non-toxic adhesive for her babies, and as such, many people tell Sasha she makes the best pasties they've ever seen or worn. Mais oui! What do you expect from an obsessive-compulsive magpie?
Barbie's Basement Jewellery is also an active participant at our merchandise table. They make extra special creations featuring not only burlesque divas of the past, but the Scandelles themselves. Pendants, belt buckles, key chains, and cuff links are just some of the treats available.