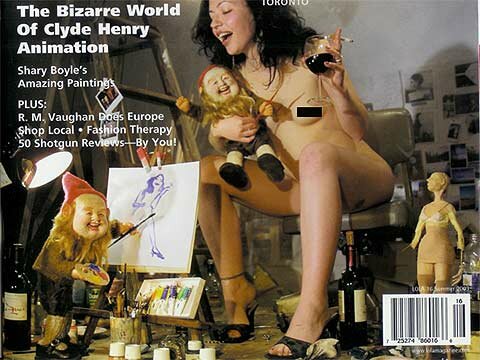 Going through Venus Lakes old family picture albums one will find many a fading image of Venus as a toddler in the seventies wandering around with no underpants. And her first word was "Go Go".
So it's really no surprise that two weeks after she turned 18 Venus began dancing in Montreal Strip clubs under the name Lola, which later became Asia and then Amber. The year was 1990 and Venus remained in the business for 7 years, renowned for her graceful and eclectic stage performances, drunken rampages and stupid antics like kicking a Mafioso in the ass or jumping up on stage out of turn to perform her interpretation of a bouzouki dance.
They were some of the happiest years of her life as Venus would later recall stating "Those were some of the happiest years of my life!". She is grateful for the opportunity to relive them onstage in Neon Nightz.Venus, a talented singer and dancer, has been performing with the Scandelles since 2002.
She has also worked as a television reporter and journalist. She was a columnist for a major daily newspaper for five years until she ran out of opinions and is now a rock journalist and features writer for one of those independent weeklies. She is also a yoga teacher.
Venus currently resides with the dashing Professor, their dog Parker and Cat Elvis "Smellvis".