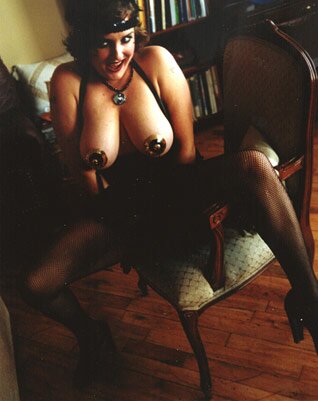 Sasha Van Bon Bon began doing burlesque in Toronto in 1998. She was a member of the seminal Toronto burlesque troupe The Dangerettes before starting the Scandelles in 2001. Prior to this, she worked as a stripper in some of Montreal's best and worst stripclubs. Following her vision of what cabaret should be: political, lewd, outrageous, and inventive, Sasha gathered a crew of performers from all walks of life to embody this. She loves burlesque because it is an ideal venue to explore new and neglected forms of beauty and humour. No matter how many Hollywood-style troupes pop up with their bobbling breast implants and snow capped teeth, there will always be an appreciated place for the outsiders! As a performer, her inspiration comes from Tallulah Bankhead, Mae West, Pola Negri, and Homer Simpson ("Woo hoo! Look at that blubber fly!").
Sasha is also the sex columnist at eye Weekly, the Montreal Mirror, and the Uptown in Winnipeg. She writes about sex for other national publications like Flare, THIS, and the Globe and Mail, and has appeared on radio shows like As It Happens, Playboy, and Metro Morning, as well as numerous television programs, both local and national. In 2003 she had the great privilege of playing one of her idols, Mae West, in Northbound Leather's yearly ball, Peepshow.
She also DJ's at Ciao Edie (489 College St), where every third Sunday she hosts a night called Damn Dog as part of the girl weekly, Here Kitty, Kitty. She adores playing indie, punk, classic, prog, and glam rock for the queer grrrls and bois and their pals. Her other interests include world literature, particularly from Russia, Japan, and Britain, and she studied creative writing, literature, and German at Concordia university. She is an avid cinephile, with a great collection of film noir, of course, and speaks three languages, two of them quite well. She loves clothing that is cut on the bias and people who aren't.