Denise Benson
DJ • radio host • journalist • music • words • passion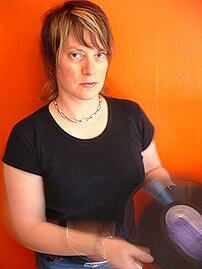 From childhood, music 'n words have ruled Denise's world. The first turntable came as a bribe at the age of four. She stopped sucking her thumb, was given this gift of choice, and got hooked. Voila, a budding DJ was born.
Benson began mixing it up in Toronto in 1987 and has been dropping beats, pieces and ideas ever since. For sixteen years, she has hosted and programmed 'Mental Chatter' on CKLN 88.1fm. In that time, the weekly three hour program has proven to be one of the station's top-rated, and one of Toronto's most eminent sources of forward-looking, underground dance music and information. Denise has also worked as a host, programmer, and Toronto correspondent for CBC Radio's Brave New Waves program. More recently, she's contributed to CBC Two's RadioEscapade and RadioSonic.
Denise is one of Toronto's most celebrated club DJ's. Since '87, she has played at countless clubs in Toronto, Montreal, Ottawa, NYC and beyond, dropping her diverse blend of abstract electronics, jazz, dub, deep and tech house, no wave, rock and more for constantly expanding audiences. Creating forward thinking club nights, she has held residencies and played at venues including Nuts 'n Bolts, the Caribou, Claremont, Boom Boom Room, Catch 22, Fez Batik, Roxy Blu, Una Mas, B-Side, Guvernment, Warehouse and dozens more. Her Glide Wednesdays at Gypsy Co-op recently concluded after seven full years. With glide co-hort DJ Andrew Allsgood, Benson recently launched the edgy, sexy and already successful Synchro Fridays at Andy Poolhall, 489 College. She's also happy as heck to be the resident DJ with the Scandelles burlesque/cabaret revue.
Since 1996, she has consistently been voted 'Toronto's Top DJ' in both NOW and Eye magazine reader's polls and was recognized by her peers as "Toronto's most influential player" in Eye's 'Behind the Decks' industry poll (Nov. 2001). Other media coverage has come from sources as diverse as Toronto Life, Xtra!, MuchMusic, TVO, CTV and TorontoLife Fashion.
On the flip, this music-obsessed grrrl has worked as a music journalist since 1995. Currently, she writes two club culture columns for Eye weekly, contributes to Exclaim magazine and publishes as a freelancer. Additionally, Benson was CKLN's Programme and Music Director for five years, worked as a programmer for the JVC Groove and Urban Rhythm Festivals, and promoted underground releases while at Iron Music.
Denise believes firmly in spreading the word about gorgeous tunes 'n such, working hard to connect with diverse audiences in print, via the airwaves, and on many a dancefloor.